A Red Family: Junius, Gladys, and Barbara Scales by Mickey Friedman. The University of Illinois Press. 2009.
This is the story of a Red family: Junius, Gladys, and Barbara Scales. Red in the older sense of the word. Because, before there were red and blue states, there were the Reds, the Communists.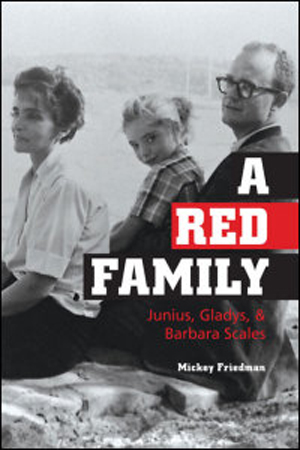 Junius Scales was the son of one of the wealthiest families in North Carolina. He left privilege to live in a poor textile mill village, and in 1939, on his nineteenth birthday, joined the Communist Party. One of the few publicly known Communists in the South, Junius organized textile workers, fought segregation, went underground, evaded the FBI, was indicted, arrested, unsuccessfully appealed his conviction to the Supreme Court and went to prison. He was the only American ever to be imprisoned under the Membership Clause of the Smith Act – jailed not because he committed violent acts, but because he had been a member of the Communist Party.
Gladys Scales came to Communism from a very different place. She was born in Brooklyn, New York. Her Jewish father was a successful small businessman who lost everything in the Depression. As her family fell apart around her, and she battled her own depression, Communism offered the opportunity to imagine and work for a more caring world.
By the time their daughter Barbara was born, Junius and Gladys were under siege and anti-Communism shaped American politics. In an attempt to protect her, and allow her the chance for a more normal childhood, they didn't tell Barbara she was a "red-diaper" baby.
A Red Family is oral history, one very different family's account of their rich and complicated journey in American radical politics. It's a story few Americans know; it's a part of our history that is rarely talked about.
"An extraordinary set of reminiscences, beautifully put together by an extremely sensitive, even gifted interviewer. It is a jewel."
–Glenda Gilmore, author of Defying Dixie: The Radical Roots of Civil Rights, 1919-1950
In these times, when words like "socialist" are hurled like daggers, A Red Family is a powerful reminder of the sacrifices made to make racial and labor justice a reality.
–Ernesto Aguilar is program director of KPFT radio station in Houston, Texas.
"With extremely rich, intelligent, and honest reflections, A Red Family speaks to a host of issues that are relevant to an important emerging debate among historians of American labor and the Left. Junius Scales's recollections address fundamental problems in the history of American communism in a way that should prove valuable to historians who want to avoid both uncritical adulation and the 'red menace' caricature on offer in much of the current work."
–Brian Kelly, author of Race, Class, and Power in the Alabama Coalfields, 1908-21
Please click here to read additional reviews of A Red Family:
A Red Family: Junius, Gladys and Barbara Scales is available in both hardcover and paperback editions.
You can purchase the hardcover edition of A Red Family from Amazon.com.
You can purchase the paperback edition of A Red Family from Amazon.com button:
You can also order A Red Family from the University of Illinois Press. Click here.
For more information, visit aredfamily.com.